There are few places in the auto industry quite as competitive as the current market for compact SUVs. The fact that the Mazda CX-5 stands out from the crowd year after year, is a testament to just how much work Mazda puts into its vehicle lineup.
We wouldn't ask you to just take our word for it though. Let's look at what the Mazda CX-5 has to offer, and how it compares to competitors like the Honda CR-V and the Toyota RAV4.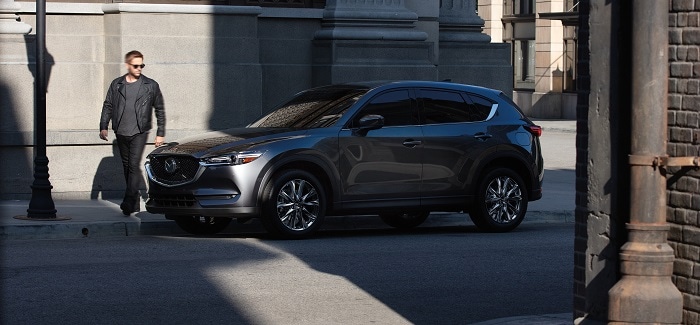 How do the Mazda CX-5, Honda CR-V and Toyota RAV4 Compare
Comfortable, well-equipped and stylish, the 2019 Mazda CX-5 is perhaps best known for not driving an SUV at all. Its sleek design and lightweight chassis help it maneuver on the road like a smaller sedan, while still offer the considerable perks of an SUV. The Honda CR-V and Toyota RAV4 don't offer a bad driving experience by any means, but they're also not comparable to the CX-5.
The same can be said for their feature suites. While the RAV4's standard safety options are enviable, and the Honda CR-V delivers a solid selection of equipment, the CX-5 offers a richer standard of features that likewise benefit from the premium touches Mazda works hard to provide. We wouldn't blame you if you mistook the Mazda CX-5 for a luxury model.

Learn More About the Mazda CX-5 Today
Would you like a more in-depth look at everything the Mazda CX-5 has to offer, and how it stands up to competitors like the RAV4 and Honda CR-V? Check out our dedicated comparison page or reach out to the sales team at Byers Mazda in Columbus, OH. We'd love the opportunity to tell you more about everything our new Mazda inventory has to offer.